DESCRIPTION:
FEATURES:
1. The material of pump body has 3 kinds which are FRPP,CFRPP,PVDF.
· FRPP and CFRPP material are temperature resistance up to 75℃
· PVDF material are temperature resistance up to 90℃;
2. Due to the unique impeller bearing housing design, even the pump dry-running, the temperature inside pump head wont easily increase to prevent pump from damaged & jam.
3.MP series pumps suitable for short range application which require volume over distance and highly recommended for various production processes such as filtering, spraying,washing, plating, chemical transfer/blending and etching in surface treatment applications.



MP -30R -M -220 -F
1.MODEL:MP
2:PRODUCT STANDARD:30R
3.M-SCREW C-HOSE
4.VOLTAGE:220V 380V
5.MATERIAL :FRPP CFPRR PVDF
SPECIFICATION
MODEL

SCREW/HOSE

MAX.FLOW(L/min)

MAX.HEAD(m)

SG

POWER(W)

IN/OUT

50HZ

60HZ

50HZ

60HZ

MP-6R

14*14

8

9

1

1.4

<1.2

6

MP-10R

14*14

11

12

1.5

2.1

<1.1

6

MP-20R

20*20

10

11

3.1

4.3

<1.1

15

MP-30RM

20*20

33

38

3.3

3.8

<1.2

45

MP-40RM

25*25

45

52

3.8

5.4

<1.3

65

MP-55RM

25*25

60

70

5.6

8.2

<1.3

90

MP-70RM

25*25

86

97

6.7

9.7

<1.1

150

MP-100RM

25*25

120

130

8.6

11.6

<1.3

250

MP-120R

40*40

220

11

<1.3

370
DIMENSIONS(mm)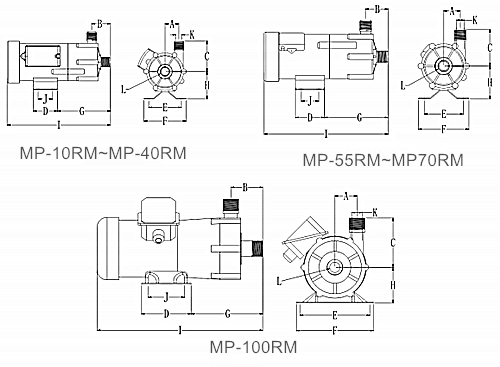 | | | | | | | | | | | | | |
| --- | --- | --- | --- | --- | --- | --- | --- | --- | --- | --- | --- | --- |
| Model | A | B | C | D | E | F | G | H | I | J | K | L |
| MP-10RM | 22 | 39 | 54 | 50 | 68 | 95 | 92 | 55 | 180 | / | G¾ | G¾ |
| MP-20RM | 31 | 40 | 61 | 50 | 68 | 85 | 107 | 55 | 211 | 30 | G¾ | G¾ |
| MP-30RM | 31 | 47 | 67 | 65 | 100 | 120 | 136 | 61 | 247 | 41 | G¾ | G¾ |
| MP-40RM | 31 | 47 | 67 | 65 | 100 | 120 | 136 | 61 | 247 | 41 | G¾ | G¾ |
| MP-55RM | 41.5 | 60.5 | 89.5 | 75 | 100 | 120.5 | 165 | 64.5 | 272 | 45 | 1 | 1 |
| MP-70RM | 43 | 52 | 89.5 | 60 | 110 | 130 | 141.5 | 65 | 257.5 | 40 | 1 | 1 |
| MP-100RM | 43.5 | 65 | 100 | 100 | 108 | 156 | 148.5 | 72.5 | 325.6 | 70 | 1 | 1 |